Cuticle potion
Regular price
Rs. 385.00
Sale price
Rs. 385.00
Unit price
per
Sale
Sold out
Ingredients- (Theobroma) Cacao Seed Butter,Helianthus Annus (Sunflower) Seed Oil, Simmondsia chinensis (Jojoba) oil, (Rosehip seed) Rosa canina L. oil Butyrospermum Parkii (Shea) Butter, Soy wax, (Equisetum arvense) Horsetail extract, Arnica montana (Arnica ) extract Vitamin E (Tocopherol)
Use the product within 9 months.
Product- Cuticle butter-
An indulgent nail care must-have, easy-absorbing rich butter helps in nourishing dry and dull skin whilst also evening out the skin tone and pigmentation around your nails. This potion helps in promoting strong and healthy nails whilst repairing the skin on your hands around your nails.
Directions- Warm a pea-sized amount between your fingers and massage around your nails and on your fingers, preferably at night before sleeping, after washing your hands and/or after a bath.
Share
Ingredients


Simmondsia chinensis (Jojoba) oil,
Ricinus communis (castor bean) oil,
Linum usitatissimum (Linseed) oil,
Tocopherol (Vitamin E),
Arnica montana Extract,
Equisetum Horsetail Extract,
Lavandula angustifolia (Lavender),
Rosa (Rose),
Matricaria chamomilla (Chamomile),
Fragrance.

 
How to use

Directions.
Dab a small amount on cuticles and
underside of the nails. Massage till
absorbed. Use 2.3 times a day.
Warning- For external use only.
Patch test on inner elbow before use
Store in a cool and dry place
Shipping

Ships within 2-3 working days.
Magic in a tub✨
I've been using the Cuticle potion religiously from last two weeks and lemme tell you my nails and cuticles haven't been this healthy until I started using the cuticle potion, and it also worked on my cracked toe nail surprisingly? My nail was taken out completely once when it broke accidentally, and while it was growing back I scratched the upper layer of it accidentally🥲 and since then from last year there have been a dry crack like scretch.. but this makes the dry looking scratched nail look healthy tbh.. I use it on my plam too since my hands get rough by cycling a lot.. after handcream I apply a lil bit of cuticle potion on the palm too at night before sleeping. What more can I ask for?! I'm in LOVE with this Cuticle potion! 🥺❤️✨
The best in town
The confidence of growing long nails seeped into me post using Araina's products. This potion has strengthened my nails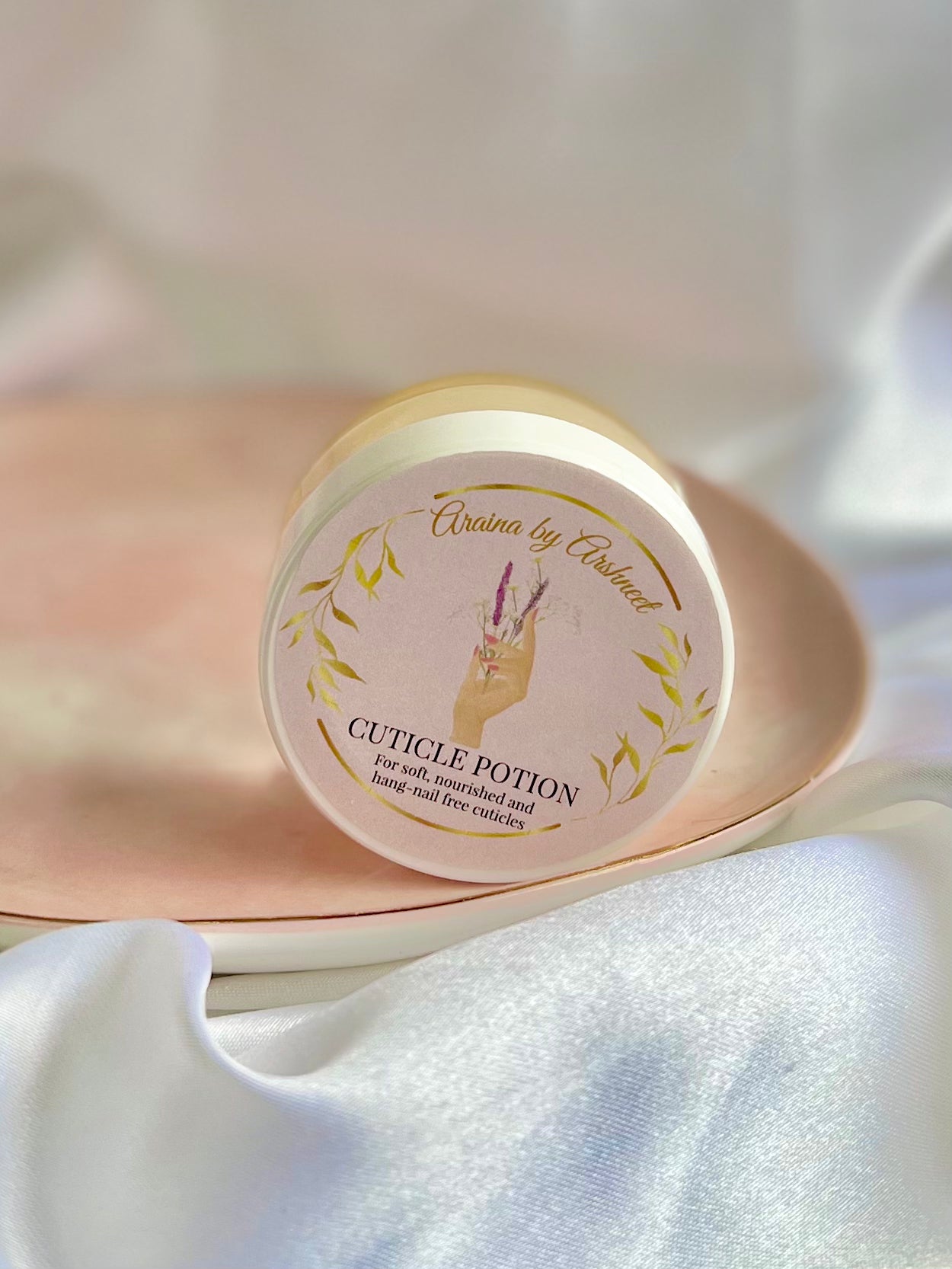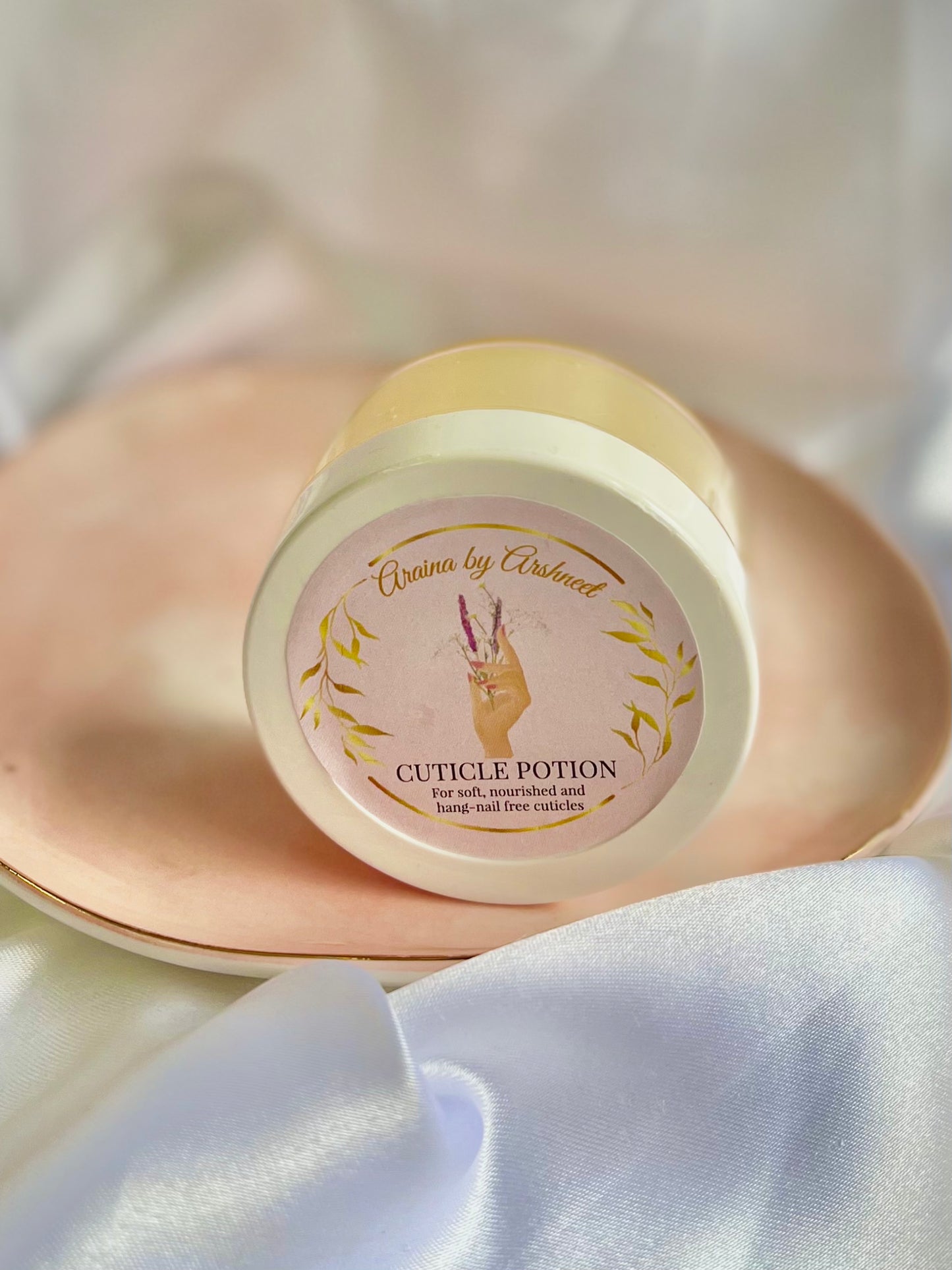 Magic in a tub✨
I've been using the Cuticle potion religiously from last two weeks and lemme tell you my nails and cuticles haven't been this healthy until I started using the cuticle potion, and it also worked on my cracked toe nail surprisingly? My nail was taken out completely once when it broke accidentally, and while it was growing back I scratched the upper layer of it accidentally🥲 and since then from last year there have been a dry crack like scretch.. but this makes the dry looking scratched nail look healthy tbh.. I use it on my plam too since my hands get rough by cycling a lot.. after handcream I apply a lil bit of cuticle potion on the palm too at night before sleeping. What more can I ask for?! I'm in LOVE with this Cuticle potion! 🥺❤️✨
The best in town
The confidence of growing long nails seeped into me post using Araina's products. This potion has strengthened my nails